SC Office Executive
The most complete office. Enjoy a workspace with everything you need and more. It not only includes the basic material for you to do your work, but also for you to do it with all possible comforts.
Accessories included:
Induction charger
Trash
Compact chair
Network Phone
HP All-In-One Computer
Headphones with microphone
HP printer
Automatic gel dispenser
Paper shredder
Fridge
Kettle
Home Automation Kit
Stationery Kit
Storage Kit
FAQs
FAQs
If you have any questions you can call us or get in touch with us through our email or telephone. We will solve your doubts as soon as possible.
Contact
Do you have any suggestion?
Write us!
How long is the delivery time?
Currently, deliveries are made within a month after order confirmation (40% payment via transfer).
What are the measurements and weight?
SC Office measures 113 cm long x 74 cm wide x 195 cm high, and weighs 250 kg (its weight varies based on configuration).
Is it delivered assembled or in parts?
The philosophy of StilChest, is that no installation is necessary, so the product is finished and assembled.
Can I make it to measure?
Get in touch with us and we will find a solution according to each need.
Does it fit in all elevators?
The SC Office model goes through all standard doors and elevators that comply with the accessibility regulations of the Technical Building Code. The elevators prior to this regulation, it may be that by measures, it does not fit. We always recommend our clients to check the interior measurements of the spaces through which they will pass StilChest.
In case these measures are an impediment, we have a smaller version of the SC Office Home office model,
Includes sending?
Yes, at the national level (Spain), except shipments outside the peninsula (to consult).
Is there only the purchase format?
Currently yes, but we are already working on a rental format.
Can I select a "made to measure" gamma?
Yes, tell us which configuration you prefer and we will look to make your configuration unique.
Can I go to see him physically?
Yes, in La Garriga we have a small showroom where we have an exhibition of the different models. We comply with all the sanitary measures recommended by the authorities. We also hold online meetings to answer questions or show the product online.
* To arrange a meeting send an email to info @stilchest.com
Can I customize the exterior?
So is! The outer material that covers each model of StilChest, is an aluminum alloy that allows any pattern to be printed on the outside and offers a unique customization.
We also offer the option of customizing each SC with custom vinyl.
Features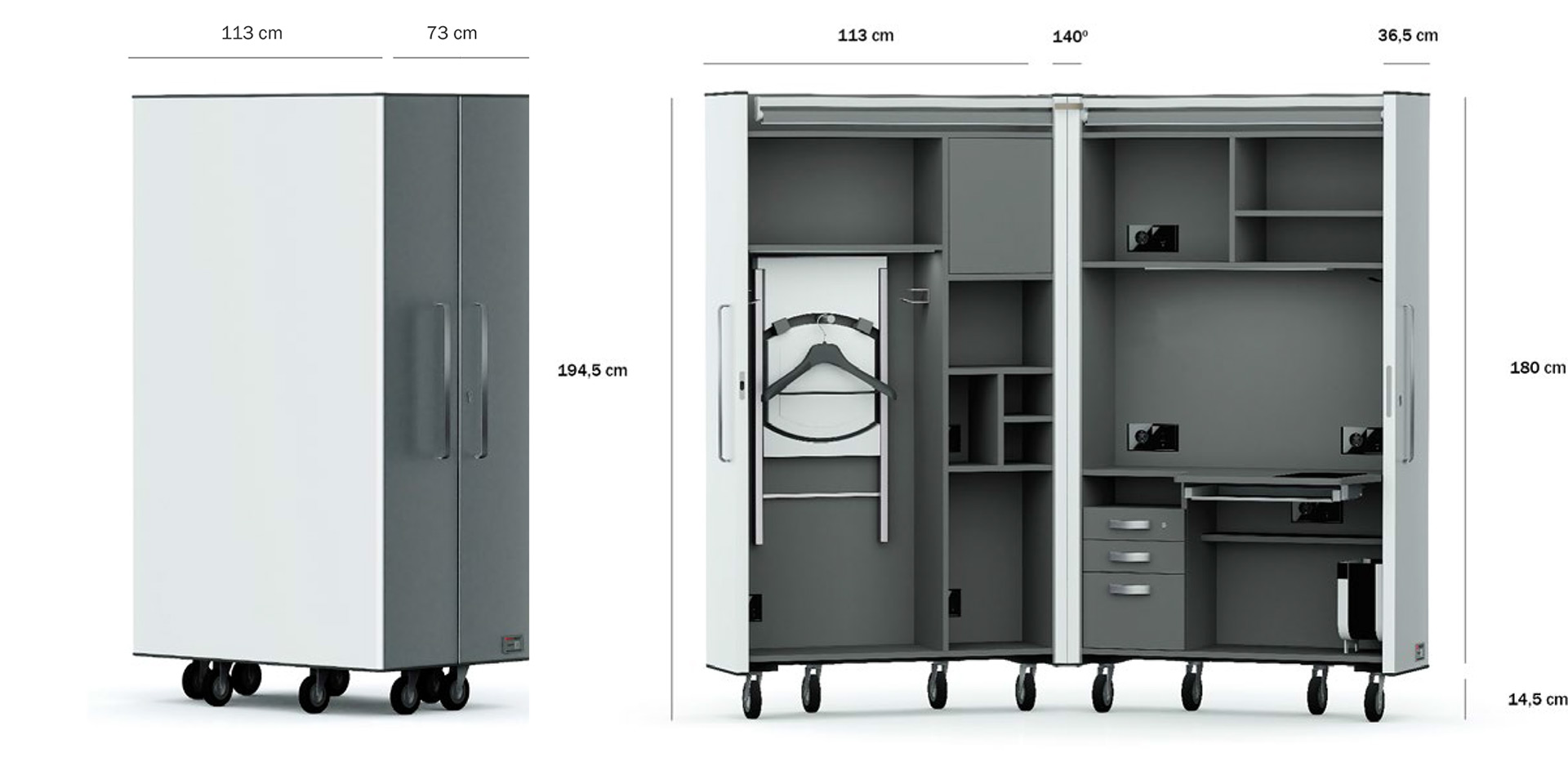 Just by plugging it into the power you will be fully operationalPower cable + network cable
Sustainability
Stilchest reduces travel and, therefore, favors the reduction of the carbon footprint